Lo spaventoso terremoto che ha colpito l'Abruzzo, sventrando le case e mietendo centinaia di vittime, non è arrivato all'improvviso. Già nelle scorse settimane in tutta la regione c'erano state tante piccole scosse sismiche ripetute: delle avvisaglie che qualcosa di molto più devastante era in arrivo. Proprio in virtù di questo -
e basandosi su un suo metodo sperimentale
- il tecnico di laboratorio dell'Istituto Nazionale di Fisica Nucleare (Infn)
Gioacchino Giampaolo Giuliani
aveva dato l'allarme preannunciando una catastrofe
. Ma non gli avevano creduto, dandogli della
Cassandra
. Non solo: era stato anche denunciato per "procurato allarme" e il capo della Protezione Civile
Guido Bertolaso
lo aveva apostrofato come "uno di quegli imbecilli che si divertono a diffondere notizie false". Notizie rivelatesi, poi, tragicamente vere.
Le precisazioni dell'Inaf. L'Inaf precisa che "Gioacchino Giampaolo Giuliani è un collaboratore tecnico non laureato dell'Istituto di Fisica dello Spazio Interplanetario di Torino, che è una delle venti strutture Inaf" e che l'ente "ha come missione e scopo lo studio dei fenomeni che avvengono nello spazio e nell'universo e non di terremoti o altri fenomeni legati alla geofisica". L'Istituto precisa inoltre che "il signor Giuliani lavora, come collaboratore tecnico, presso i Laboratori Nazionali dell'Istituto Nazionale di Fisica Nucleare del Gran Sasso per conto di Ifsi-Inaf, nel quadro di una collaborazione multipartner nell'esperimento Lvd (Large Volume Detector) per la rivelazione di neutrini prodotti da collasso gravitazionale stellare". Pertanto, conclude la nota, "le attività del signor Giuliani rispetto la presunta possibilità di previsione di terremoti non sono una ricerca Inaf, ma vengono svolte dal Giuliani stesso per scopi personali al di fuori dell'orario di servizio per l'Istituto". Una cosa, però, l'Inaf non la dice: perché non è stato dato alcun credito (né supporto) alle parole di Giuliani, che pure aveva portato dati circostanziati sugli eventi futuri?

La solidarietà su Facebook. Dopo la tragedia del terremoto in Abruzzo e le nuove polemiche per le dichiarazioni di Gioacchino Giampaolo Giuliani, che avrebbe messo a punto un sistema, ancora sperimentale, per prevedere un sisma sul social network Facebook fioccano i gruppi che solidarizzano col tecnico. In molti addirittura propongono che diventi il nuovo capo della Protezione Civile. Sono nati i gruppi su «Giuliani eroe nazionale», «Chiedere scusa a Giuliani», «Solidarietà per Giuliani», «Giuliani aveva ragione sul terremoto». Mentre conta già 2151 iscritti il gruppo «Sosteniamo Giampaolo Giuliani ed il brevetto per la previsione di terremoti».
Ingv: "Previsioni con radon fondate, ma non pronte". Prevedere i terremoti basandosi sull'analisi del radon è una possibilità allo studio dell' Istituto Nazionale di Geofisica e Vulcanologia (Ingv), «ma questo strumento di previsione non è ancora pronto». Federica Quattrocchi, responsabile dell'Unità funzionale di geochimica dei fluidi stoccaggio geologico e geotermia dell'Ingv, lavora da quasi vent'anni sui segnali che annunciano i terremoti. «Ho promosso questa ricerca in Italia nel 1990, ma spesso - rileva - il nostro lavoro è stato affossato proprio da persone come Giuliani, che si muovevano ai margini della comunità scientifica e si rivolgevano direttamente ai sindaci lanciando allarmi per far evacuare i Comuni».
Del sistema di previsione proposto da Gioacchino Giampaolo Giuliani, il collaboratore tecnico dell'Istituto Nazionale di Astrofisica che sostiene di avere previsto il terremoto, Quattrocchi dice: «Non contesto la sua ricerca, ma il metodo: si muove a margine della comunità scientifica e sostiene che le previsioni siano deterministiche». La verità, prosegue, "è che questo sistema di previsione non è ancora pronto e attualmente non è in grado di fare previsioni esatte, ossia di stabilire la data e il luogo esatto in cui avverrà un terremoto. Per avere dati affidabili è necessaria una rete nazionale di rivelatori di radon, con una decina di strumenti per regione e dal costo complessivo di circa un milione di euro. In pratica, se la rete venisse finanziata ora, i primi risultati potrebbero arrivare dopo il 2050″.
Di Pietro: "La tragedia poteva essere contenuta". «Oggi è soltanto il giorno del dolore, della solidarietà e anche della vicinanza umana e politica verso le istituzioni, Governo compreso, che si stanno prodigando per venire incontro alla popolazione duramente colpita dal sisma», afferma Antonio Di Pietro sul suo blog. «In Italia - aggiunge poi il leader di Idv - 'ambasciator porta pena', anzi rappresenta egli stesso la pena. Se denunci sei denigrato, sospeso, denunciato a tua volta e, come avviene negli Stati a diritto compromesso, ne paghi le conseguenze. È accaduto a Giampaolo Giuliani, fisico e tecnico presso il laboratorio nazionale del Gran Sasso.
Quella che è accaduta a L'Aquila - sottolinea Di Pietro - è una tragedia che poteva essere contenuta. Giampaolo Giuliani, che aveva preannunciato questo disastro, è stato denunciato per procurato allarme. Sarebbe stato il caso di verificarne accuratamente la segnalazione, attivando le precauzioni necessarie per evitare l'irreparabile o, comunque, contenerne le conseguenze. L'Italia, come tutti sanno, è un Paese ad altissima attività sismica. Tra gli edifici crollati in Abruzzo ci sono anche scuole, diversi palazzi pubblici ed una Casa dello studente. Mi domando - conclude Di Pietro - che senso abbia investire nel progetto del ponte sullo Stretto di Messina, esso stesso in zona ad alto rischio sismico, o discutere sulla costruzione di centrali nucleari sicure, se non si riescono neppure a garantire i requisiti antisismici nelle abitazioni».
DOMANDA: La cosa che non mi torna è questa: se i terremoti non si possono prevedere (cosa che mi pare realistica) come mai i Bertolaso e i vari altri laureati una settimana fa prevedevano che non ci sarebbe stato? Sarà mica che la prevedibilità funziona solo in una direzione??!

Poi c'e' un video sul test per la prevenzione sismica fatto con l'universita dell'aquila, dietro alla scuola di san berardino, dove si procede a trivellare un foro nel terreno sitiato su un angolo della piazza, per trenta metri di profondità. per una prova sismica, dove sarà prodotta una onda sismica artificiale, per vedere come il sottosuolo dell'aquilano si comporta.
Se è vero che un sisma è sempre accompagnato da precursori sismici percepibili da strumenti quali il PM4, SE FOSSE PROVATO CHE UNA SCOSSA SISMICA NON LO FOSSE STATA, RISULTEREBBE EVIDENTE LA REALTA' DI UN'ALTRA MOTIVAZIONE ESOGENA DEL FENOMENO OSSERVATO. Nell'evenienza di una tale circostanza, sarebbe opportuno indagare e verificare quale sistema di onde potrebbero produrre il sisma anomalo caratterizzato dall'assenza dei suddetti precursori sismici.
Qualora una forma d'onda "X" fosse all'origine di una relativa scossa "Y no-radon", basterebbe indagare su tre diversi campi ondulatori di frequenze per scoprire quale origine possa avere. Analisi di spettro dei campi Elettrico, Magnetico o Gravitazionale terrestre offrirebbero subito una risposta chiara. Come ad ogni spinta a carica risonante segue una oscillazione relativa proporzionale alla somma delle quantità addizionate, cosi la forza liberata di un'onda smorzata di questo tipo, risuonerebbe come un gong, e sebbene sarebbe caratterizzata dall' assenza di precursori radon, sarebbero facilmente riscontrabili tracce della sua costruzione a livello vlf e xlf, nello spettro magnetico e quello gravitazionale.
MISURE DI RADON E SISMICITÀ NELLA ZONA DI CONFINE TRA ITALIA E SLOVENIA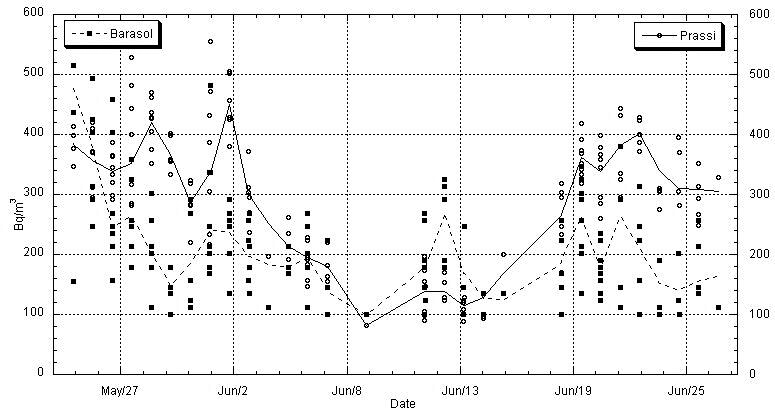 GNGTS – Atti del 23° Convegno Nazionale / 05.10
M. Santulin (1), A. Riggio (1), S. Sancin (1), A. Popit (2) e J. Vaupotic (2)
(1) Istituto Nazionale di Oceanografia e Geofisica Sperimentale - OGS, Trieste, Italia
(2) Jozef Stefan Institute, Ljubljana, Slovenia
MISURE DI RADON E SISMICITÀ NELLA ZONA DI CONFINE
TRA ITALIA E SLOVENIA
Misure della concentrazione di gas radon a scopo sismologico sono state
eseguite in Italia (Friuli) e in Slovenia rispettivamente, dalla fine del 1995 e dal 1998.
Le tecniche di acquisizione, come anche il tipo di strumento sono differenti, ma i dati
sembrano comparabili. Una collaborazione scientifica tra l'OGS e l'Istituto Jozef
Stefan di Lubiana, iniziata nel 2000, è stata ufficializzata con un progetto bilaterale
Italia-Slovenia nel 2003. In Slovenia sono in funzione tre stazioni di radon in acqua
termale, ma in questo lavoro sono stati utilizzati solamente i dati registrati dalla
stazione di Bled perché quest'ultima ha avuto una maggiore continuità di
registrazione nel periodo considerato. Nello stesso sito vengono misurate anche la
temperatura e la conducibilità elettrica dell'acqua. Lo strumento utilizzato è una
sonda Barasol (MC-450, Algade, France) con sensibilità di 50 Bq/m3. L'intervallo di
campionamento è di 1 ora.
Il sito italiano è equipaggiato con uno strumento a registrazione continua del
tipo a cella a scintillazione di Lucas, modello Prassi 5S della Silena. La sensibilità è
di 4 Bq/m3 e l'intervallo di campionamento utilizzato è di 3 ore. La misura è eseguita
nell'aria, all'interno di un pozzo dove il livello medio della falda è di circa 17 metri. A
pochi metri di distanza una stazione meteorologica provvede alla registrazione della
pressione atmosferica, della pluviometria, della temperatura dell'aria e dell'acqua e
del livello della falda.
Nel maggio 2004, a circa 30 metri di distanza dal sito italiano di registrazione, è
stata installata un'altra sonda Barasol per l'acquisizione di radon in suolo. I dati
registrati dai due strumenti di tipo diverso sono stati analizzati e confrontati. I primi
risultati sembrano confermare che dati registrati con metodologia e strumentazione
differenti presentano un andamento simile (Fig .1).
La concentrazione di radon è analizzata contemporaneamente ai dati
sismologici registrati dalla Rete Sismometrica del Friuli, gestita dall'OGS, e dalla
Rete Sismometrica Slovena, gestita dall'Agenzia dell'Ambiente della Repubblica
Slovena. Per i terremoti con epicentro al di fuori dell'area in esame, sono utilizzati i
dati riportati in cataloghi internazionali.
La selezione dei singoli terremoti è stata fatta secondo la relazione di Hauksson
e Goddard (1981), che determina la magnitudo minima necessaria perché venga
registrata una variazione nella concentrazione di radon ad una data distanza
dall'epicentro.
Le variazioni della concentrazione di radon a lungo periodo sono state, invece,
confrontate con le variazioni nel tempo del parametro b della legge di Gutenberg e
Richter (1944), calcolato utilizzando tutti i terremoti con epicentro nell'area
considerata e con magnitudo maggiore o uguale a 1,8.
I risultati hanno mostrato il legame tra l'andamento della concentrazione di
radon e lo stato di stress presente nella zona. Tale relazione è evidente, nei dati
relativi al periodo di preparazione dei due terremoti forti avvenuti nel 1998 e nel 2004
a Bovec, in Slovenia.

GNGTS – Atti del 23° Convegno Nazionale / 05.10
Fig. 1 - Confronto fra le concentrazioni di radon registrate in giugno 2004 dalle due diverse
strumentazioni, nel sito di Cazzaso (Friuli). I valori registrati con il Barasol sono stati divisi per 5 per
una migliore rappresentazione grafica.
BIBLIOGRAFIA
Gutenberg B. and Richter C.F.; 1944: Frequency of earthquakes in California. Bull.Seism.Soc.Am. 34,
185-188.
Hauksson E. and Goddard J.G.; 1981: Radon earthquake Precursor studies in Iceland.
J.Geophys.Res. 86, 7037 – 7054.
Geophysical Research Abstracts,
Vol. 10, EGU2008-A-10334, 2008
SRef-ID: 1607-7962/gra/EGU2008-A-10334
EGU General Assembly 2008
© Author(s) 2008
Radon precursors to earthquakes: a search for physical
mechanisms
H. Woith (1), G. Martinelli (2), J. Heinicke (3) & H. Surbeck (4)
(1) GeoForschungsZentrum Potsdam, Germany, (2) Servizio Cartografico e Geologico,
Regione Emilia-Romagna, Bologna, Italy, (3) TU Bergakademie Freiberg, Germany, (4) Swiss
Center of Hydrogeology, University of Neuchatel, Switzerland (radon@gfz-potsdam.de / Fax:
+49 331 2881204)

We investigated a series of publications where radon anomalies were reported to precede
earthquakes with special emphasis to the proposed physical mechanisms. The
aim of our study is not an in extenso listing of all reported radon anomalies but rather
an attempt to elaborate certain classes of radon anomalies and their physical origin. By
far the most popular attempt to relate radon anomalies with earthquakes was – and still
is – a 1:1 approach, i.e. one radon anomaly is related to one earthquake. Whereas the
anomaly definition is more or less straightforward, the selection of the "corresponding"
earthquake is not. In fact, it is the most critical, sometimes arbitrary procedure.
Other types are 1:n and n:n relations describing one radon anomaly in relation to the
seismicity of an area or a time segment and a series of radon transients in relation
to seismicity in time and/or space, respectively. Finally, we discuss 1:0 types of relations,
i.e. a radon anomaly which is not followed by an earthquake. Needless to say,
that the latter type is rarely published. We will present examples that non-seismically
originated radon anomalies can be strikingly similar to the "real" thing and thus the
underlying physical processes might be strikingly similar as well.
E in Thailandia vediamo cosa scrivono al riguardo:
Soil gas radon as an earthquake precursor: some considerations on data improvement

Received 6 June 1998;
accepted 24 July 1998.
Available online 28 January 1999.
Abstract: A data processing technique based on impulse responses from multivariable time series was applied to radon data. It was found that soil gas radon at 50 cm depth was affected more by meteorological parameters than at 100 cm depth. This fact together with the fact that the radon change at the latter depth was larger when an earthquake occurred, radon measurement at 100 cm depth was tested as an earthquake precursor. The result showed correlation between radon anomalies and earthquake events.
Article Outline
Interessante!!! Non lo sanno neppure loro. Vediamo se anche altri ignorano la cosa... Ora andiamo in India...
Lascio l'articolo in Inglese perché e' bene conoscere almeno tre lingue oggigiorno e un poco di sforzo no fa mai male.
COMMUNICATIONS
1288 CURRENT SCIENCE, VOL. 86, NO. 9, 10 MAY 2004
A study of fluctuation in radon concentration behaviour as an earthquake precursor
Kaushik Majumdar
Electronics and Communication Sciences Unit, Indian Statistical
Institute, 203, B.T. Road, Kolkata 700 108, India

Before, during and after many large earthquakes significant
change in concentration of radon has been
observed in China, Japan and India. To establish this
behaviour as a potential earthquake precursor, it is
important to understand the phenomenon in terms of
geodynamics. Here I propose a geodynamic model to
establish a correlation between precursory radon concentration
fluctuations and an impending earthquake.
The model has been validated by field data collected
from Japan and China. Further investigation with this
model also helps to find a possible explanation for
abnormal variation in the geomagnetic field intensity
observed before, during and after some earthquakes.
LARGE earthquakes (M 5.5 or more) are the most devastating
of all natural calamities to human life and property.
Therefore, scientific research leading to successful prediction
of large earthquakes, sufficiently in advance, has
great significance to mankind. Unfortunately, to this date,
no reliable method for successful earthquake prediction
with precise timing, location and intensity has been developed.
Nevertheless, based on long-time studies, some
earthquake precursors like change in ion concentration in
water, variation in concentration of He, Ne, Ar, Rn and
N2 in the environment of the affected zone, abnormality
of behaviour in some animals, occurrence of milder foreshocks
before a large earthquake, sudden water-level change
in some wells, ground deformation, stress build-up in the
ground rocks (which may in turn alter electric resistance
of the rocks)1, etc. have been identified. But most of these
precursors behave erratically and therefore have been
poorly understood so far and earthquake prediction has
become a controversial issue2,3.
To understand the exact relationship of a precursor
with an impending large earthquake, it is essential to
know the geodynamical reason behind the occurrence of
that precursor. Erratic change in radon concentration has
been observed in many earthquake-prone zones a few
months before, during and after a large earthquake1,4–6.
Such behaviour has been observed in deep wells where
inducement of radon concentration fluctuations from the
environment can virtually be ruled out. Therefore, it is
tempting to consider a sudden erratic fluctuation in radon
concentration, for days on end, particularly in deep wells
in an earthquake-prone zone, as a potential omen for an
impending large earthquake. Here an analysis of the precursory
radon concentration behaviour during the Izu-
Oshima-kinkai earthquake (M 7.0) during 1978 in Japan
will be undertaken, and based on this a geodynamic model
will be proposed, which has been validated by data collected
during some other earthquakes.
Let us try to find an explanation for the erratic fluctuations
in radon concentration recorded in an artesian well
in Izu peninsula of Japan, before, during and after the
14 January 1978 Izu-Oshima-kinkai earthquake (M 7.0,
Figure 1)4.
Most of the rocks in the earth's crust, as well as soil
and alluvium derived from it, contains uranium. About
99.3% of this uranium7 is the isotope U-238. Decay of an
U-238 atom marks the beginning of a series of 14 decays
that ends at the isotope Pb-206. Rn-222 (half-life 3.82
days, directly derived from Ra-226) is an intermediate
radioactive, inert, odourless, colourless, gaseous daughter
isotope in the decay7 of U-238 to Pb-206. Because of the
short half-life of Rn, it is generally believed that most of
the naturally occurring Rn in the environment comes
from only within a few metres of depth in the earth's
crust7. The continental crust has an average thickness of
30 km, reaching its highest value of 70 km in the Tibetan
plateau8, and minimum at the spreading plate boundaries.
A standard argument for the variation in dissolved gas
concentration in water wells before, during and after an
earthquake in that zone, is the variation in release of the
gases entrapped in crustal rocks due to pore collapse and/
or crack build-up caused by variation in stress5. Being an
inert gas, radon concentration cannot be varied due to
chemical reaction with other substances exposed due to
crack build-up in the rocks. Normally, its source on the
earth is U-238 in the near-surface crustal rocks, whose
typical concentration level is 1 to 4 parts per million (ppm)7.
To explain the erratic precursory radon concentration
behaviour4 in Figure 1, I propose the following model.
e-mail: kaushik_r@isical.ac.in

RESEARCH COMMUNICATIONS
Figure 1. Precursory radon concentration fluctuations of 1978 Izu-
Oshima-kinkai earthquake observed in an artesian well, 25 km away
from the epicentre. The heavy dotted line shows the average annual
variation calculated from data for eight years. (After Wakita et al.4).
RESEARCH COMMUNICATIONS
CURRENT SCIENCE, VOL. 86, NO. 9, 10 MAY 2004 1289
The pattern of convection beneath the earth's surface
plate, on which the plate tectonics and therefore earthquakes
depend, remains one of the main unsolved problems
in geophysics9. Because both seismic earth models
and mineral physics studies suggest that any present-day
chemical density heterogeneity in the mantle cannot exceed
1–2%, the mantle is often assumed to be homogeneous
for the purposes of dynamic modelling9. Clearly, this is
only an approximation. The upper mantle, near the subduction
zones, where subducted lithospheres with strong
chemical heterogeneity on the scale of tens of kilometres8
are slowly being recycled back into the mantle, must bear
the signature of this heterogeneity. In fact, chemical
segregation is favoured over homogenization by kinematic
mixing8.

In laboratory experiments, under much more simplified
conditions compared to the actual mantle, 'doming' regimes
have been observed at a layer of viscosity stratification in
a thermochemical flow model9. The Rayleigh numbers of
the experiments are comparable to those of the actual
mantle flow. Hot plumes come out from a small neighbouring
area centering the uppermost point of the dome.
In a recent study, four high-viscosity stratification layers
in the mantle have been identified, the uppermost being
only 220 km deep10. Chemical heterogeneity near a subduction
zone, coupled with this viscosity stratification,
should also give rise to smaller (only of the order of a
few thousand cubic km), shortlived blobs (existing only
for a few tens of years before being mixed-up in the
mantle), unlike the megablobs in existence for hundreds
of million of years, as inferred by Davaille9. Hot, cylindrical,
axisymmetric plumes of diameter only from a few
hundred metres to a few kilometres will reach up to just
below the plates. There is a region of upper mantle, 50 to
150 km deep, with low viscosity10 and low seismic velocity8
(i.e. with low density) over which plates glide, like
rafts floating on sea. Hot-plume injection in this region
near a subduction zone will expedite plate motion, by
reducing viscosity and/or increasing negative buoyancy
(by density reduction), which may lead to the advancement
of an earthquake. In this regard, it is interesting to
note the excellent correlation observed between seismic
activity of an earthquake-prone zone with artificial injection
of water in the rocks1, although the two mechanisms
and effects are completely different.
Studies carried out10, clearly indicate that the flow inside
the mantle is turbulent, in the sense that (i) the
velocity field is random and (ii) vortices occur chaotically.
Turbulent flow and temperature variations in the
upper mantle may occasionally increase the pressure
inside the blob, leading to a sudden increase in plume
discharge from it. This, in turn, will increase the plate
motion sometimes (but not always) leading to an earthquake.
Alternatively, the conduit through which the plume
is upwelling may get choked for sometime, leading to a
pressure build-up inside the blob. When the pressure
level becomes sufficiently high the conduit may burst,
much like a blocked pressure cooker valve, ejecting
greater amount of plumes than usual for sometime, till
the pressure level inside the blob returns to normal. This
process may expedite the plate motion more than it has
initially slowed down depending on the duration of
choking and the magnitude of the upwelled magma after
the blast.

To explain the precursory erratic radon concentration
behaviour of Izu-Oshima-kinkai earthquake (Figure 1),
let us note that the high annual average radon concentration
cannot be due to a source from near the surface of
the earth, but rather from much deeper underground. It is
actually coming out of the Moho through a conduit
across the plate. The Moho in this region got its supply
(steady at least for several years) of U-238 from a blob
just underneath, through upwelling plumes. Just a few
months before the 14 January 1978 event, the magma
upwelling conduit above the blob got choked-up, leading
to an intermittent release of smaller-than-usual amount of
uranium. (The uranium concentration is diluted fast through
mixing in the low viscosity and low density region,
where the velocity of ejection is much higher than the
usual convection speed in that layer.) The average concentration
of U-238 in the interior of the earth8 is 30.8 ×
10–9 kg/kg and that at the uranium ore7 is 10–3 kg/kg, as
characterized by sudden step-like lowering in the rate of
radon emission in Figure1. When the burst occurred, it
cleared the block at the magma upwelling conduit leading
to a greater-than-usual uranium supply at the Moho just
above, which in turn increased the radon emission rate
just before and after the 14 January event, as shown in
Figure 1. The hypothesis is further bolstered by the data
presented in Figure 2 in conjunction with the abovementioned
radon emission rate (see Figure 2 a). In Figure
2 b, water-temperature variation in a 500 m well, at
an epicentral distance of 30 km, has been recorded. In
Figure 2 c and d water-level variation at the well of
(Figure 2 b) and the ground strain variation (at a borehole
strain-meter placed at an epicentral distance of 50 km)
have respectively been recorded. From the data of Figure
2, it is apparent that the water in the well (Figure 2 b) is
directly being heated by hot gas emanating from the
plume under the plate and reaching the well by diffusion
through small cracks across the plate (unfortunately, no
chemical analysis data of the well-water at that time is
available to further confirm or reject this assumption). As
the plate slowly subducts, the ground strain is relaxed
leading to crack enlargement, which decreases the water
level in the well (by 0.3 m) by consuming some of it. But
since the plume has ceased to upwell due to temporary
choking of the plume conduit over the blob in the upper
asthenosphere region8, the water temperature falls instead
of increasing even after enlargement of the cracks. This
is compatible with a similar fall in the radon emission
rate level at the well (Figures 1 and 2 b).

The subsequent
RESEARCH COMMUNICATIONS
1290 CURRENT SCIENCE, VOL. 86, NO. 9, 10 MAY 2004
rise in radon emission rate level (Figure 2 a) and watertemperature
increase (Figure 2 b) are also compatible. It
is worthwhile to note that during observation of radon
concentration in the well of Figure 1 from May 1977 to
August 1986, no significant change was observed due to
other earthquakes of magnitude greater than M 5 within
an epicentral distance of 100 km and greater than M 6.5
within 600 km4.

A simple mathematical model of elliptic spreading of
hot magma (for clue see Figure 1 b of Manga11), in the
Moho, ejected through the plume conduit on top of a blob
is being proposed. According to this model, the twodimensional
magma flow in the Moho is turbulent at any
point of time. According to some opinion, turbulent flows
cannot be modelled by the Navier–Stokes equations12,13.
Here I propose the following set of equations for modelling
the two-dimensional magma spreading through the
Moho. (Equations (1) and (2) represent a general form of
flow in a plane. By choosing the values of ni, Ai, mi and
the form of the functions fi, any flow in a plane can be
modelled by eqs (1) and (2), as shown here in case of an
elliptical flow.)
( , , )
1( 1 2 ) 1( 1 2 ) 1 , , , , e 1 1 1 2 m f x x t u x x t v x x t A - = + , (1)
.
( , , )
2 ( 1 2 ) 2 ( 1 2 ) 2
u x , x , t = v x , x , t + A e-m2 f2 x1 x2 t (2)
ui is the total velocity component along xi, vi is the linear
velocity along xi, Ai emifi(xi,x2,t) is the curvilinear (spiral)
component of velocity along xi, for i = 1, 2. Ai and mi
are constant numbers whose values lie in some closed,
bounded intervals of the real line. (The absolute value of
mi is an increasing function of Rayleigh number and
determines the angular shape of curving, Ai determines
the radius of the curving), fi is a function giving the
angular span of curving. A1 and A2 are of the order of tens
of kilometres. Moreover, if the flow is approximately
elliptical, then we should take
log(sin )
1
1
f1 t m = and
log(cos )
2
1
f2 m t = ,
where t is of the order of years and therefore sint and cost
can be taken as positive in a few months to few years
range. Since here I am concerned with the curvilinear
spreading of flow only, keeping the centre of propagation
(the hole of plume ejection) fixed, v1 = v2 = 0.

Geochemical heterogeneity within the upper mantle is
not limited to the subduction zones alone. Due to existence
of diverse isotopic suits throughout the upper
mantle, the upper mantle has been modelled like a 'plum
pudding'14. So blobs can also form below, deeper inside
the plate. Ejection of plumes from such blobs may affect
the intraplate stress build-up, expediting an intraplate
earthquake.

In a two-layer mantle convection model, the concentration
of radiogenic heat sources (U-238, U-235, Th-232
and K-40) in the lower mantle is only about 1.5% of the
average heat-source concentration in the entire mantle8.
In a more detailed model, the upper mantle itself is subdivided,
according to viscosity stratification, into two
zones separated by a high-viscosity layer at 220 km
depth10. The density variation is the highest in the whole
mantle above this layer10, possibly forming the continental
and the oceanic crusts at the surface, like accumulation
of cream over boiled milk after cooling. Mantle flow
through the high viscosity barriers (at least four)10 is
Figure 2. Precursory changes of the 1978 Izu-Oshima-kinkai earthquake.
a, Radon concentration change observed at the well of Figure 1.
b, Water-temperature variation observed at a 500 m well (epicentral
distance 30 km). c, Water-level variation at the well of (b). d, Strain
change measured by a borehole strainmeter at the tip of the peninsula
(distance 50 km). After Wakita et al.4.
a
b
c
d
RESEARCH COMMUNICATIONS
CURRENT SCIENCE, VOL. 86, NO. 9, 10 MAY 2004 1291
maintained through upwelling of plumes in a smaller
scale, compared to the ones in Hawaii, which gradually
depletes the lower parts of the mantle of radiogenic heat
producing materials and enriches the upper parts of the
mantle with their deposit. This process becomes the
richest in radiogenic substances through the uppermost
high-viscosity layer at 220 km depth. The spike-like fluctuation
in the precursory radon concentration behaviour
before several earthquakes of intensity M 5.5 or more, as
recorded in Guza station (located at the intersection of
three major fault systems)4 in China (Figure 3), is
directly related to this phenomenon. The smaller plume
conduits, where plume strength varies in time and possibly
deformed by other motions in the flow, often tend to
get choked-up. Due to radiogenic heating inside the blob,
the pressure keeps building up. When the pressure becomes
sufficiently high, the choke in the conduit is blown
up, releasing a sudden spurt of U-238-rich plume for
some-time before being choked-up again. This may affect
the strain build-up in the plate directly above by expediting
the plate motion, sometimes (but not always)
leading to an intraplate earthquake. Radon, produced by
U-238 decay, might be reaching the station through some
cracks across the plate and after the plume conduit chokes
up, the uranium concentration below the plate is diluted
fast through rapid mixing in the low-viscosity and lowdensity
region.
The simulation given in Figure 4 will help analyse the
precursory change in geomagnetic field intensity during
some moderate-to-large earthquakes in China and Mongolia
(Figure 5).
The propagation of hot magma as shown in Figure 4, is
in general turbulent, due to numerous collisions with the
subsolidus rock. But if the radioisotope-rich magma at
some portion gets an average angular velocity, as shown
in Figure 4, then the emitted a, b and g rays due to
radioactive decay ionize some of the neighbouring materials
and release free electrons. The circulation of free
electron-rich magma in a path indicated by arrows in
Figure 4, will produce a magnetic field. According to its
orientation, it may increase or decrease the geomagnetic
field intensity as experienced on the surface of the earth.
Magma upwelling below a plate near the boundary
may help plate subsistence due to negative buoyancy (upwelled
magma is hotter and therefore less dense than the
surrounding). This may expedite an interplate strike-slip
earthquake, like the one that occurred on 12 June 1897 in
Assam, India (M 8.1)15. Radon concentration fluctuation
monitoring has been going on for about two decades in
the Himalayan region also6,16. Here too, the correlation
between erratic fluctuations in radon concentration and
seismic activity is clear6,16. It has been demonstrated that
Figure 3. Spike-like changes in radon concentration observed at
Guza station, Sichuan Province, China before several earthquakes of
magnitude M 5.5 or more, within an epicentral distance of 320 km.
After Wakita et al.4.
Figure 4. Magma propagation below the plate after upwelling
through an axisymmetric plume at the centre (diameter 2 km). In
reality, the upwelled magma will collide with the subsolidus rock in the
Moho and the velocity vector will be random at each point. A more
complicated calculation of eqs (1) and (2) at a finer resolution will give
a more realistic simulation. But even the present simple simulation will
help explain phenomena like precursory change in geomagnetic field
intensity4. If the radioisotope-rich magma in certain regions gets an
average angular velocity as indicated by the arrows, it will affect the
geomagnetic field intensity.

RESEARCH COMMUNICATIONS
1292 CURRENT SCIENCE, VOL. 86, NO. 9, 10 MAY 2004
even in case of small earthquakes (M 4.5 or less), erratic
fluctuations in radon concentration is clearly observable
before, during and after an earthquake16. Radon concentration
fluctuation data collected from Chamba station (in
Himachal Pradesh, India) during March 1995 have been
presented in time series form (see figure 3, Virk et al.6).
An earthquake of M 5.1 occurred in Chamba on 24 March
1995. Here too, several days before the quake, radon
concentration level went down (possibly because of choking
as described above) and then suddenly shot up
abnormally (because of the sudden burst of the choked
conduit) a few days before the earthquake. Right at the
time of the quake, it reached almost the usual level. But
the earlier events had already expedited the plate motion,
leading to the 24 March earthquake, or at least some
advancement of it.
Validating an earthquake precursor through an acceptable
geodynamic modelling and accounting for its occurrence
is a challenging task. Earthquakes are seen as consequences
of plate tectonics. Plate motions are controlled
by the complex dynamics of mantle flows, which depends
on the thermal states and chemical composition of the
mantle. Upwelling of hot plumes and downwelling of
colder, denser materials keep running the cycles of vertical
mantle flow over geologic time. Therefore, it is only natural
to expect that plume upwelling and propagation below
the plates may have significant effects on the seismic
activities. Based on the findings of some recent research9,10,
here a model has been proposed for upwelling and spreading
of radioisotope-rich magma below the plates, which
leaves its signature in the erratic radon concentration
fluctuations, as observed before, during and after some
earthquakes in China, Japan and India. With this model,
the geomagnetic field intensity change as a precursor to
some earthquakes can also be explained. Based on the
validity of the model, radon concentration and geomagnetic
field intensity variation give a direct measure of the
velocity field and chemical composition of magma
upwelling and propagation below the plate, from which
the prospect of an intermediate-term prediction of an
impending large earthquake can sometimes be improved.
This should be viewed as a complementary and not
competitive effort for earthquake prediction in addition to
the existing ones like the measurement of rupture
propagation3,17. Further testing of this model with more
diverse datasets is needed.
1. The Cambridge Encyclopaedia of Earth Sciences, Cambridge
University Press, Cambridge, 1981.
2. Geller, R. J., Shake-up for earthquake prediction. Nature, 1991,
352, 275–276, Nature, 353, 611–612.
3. Vidale, J. E., Do big and little earthquakes start differently? Science,
1996, 271, pp. 953–954.
4. Wakita, H., Nakamura, Y. and Sano, Y., Short-term and intermediateterm
geochemical precursors. In Intermediate-Term Earthquake
Prediction (eds Stuart, W. D. and Aki, K.), Birkhauser, Basel,
1988, pp. 267–278.
5. Donald, T., Geochemical precursors to seismic activity. In Intermediate-
Term Earthquake Prediction (eds Stuart, W. D. and Aki,
K.), Birkhauser, Basel, 1988, pp. 241–266.
6. Virk, H. S., Walia, V. and Sharma, A. K., Radon precursory signals
of Chamba earthquake. Curr. Sci., 1995, 69, pp. 452–454.
7. http://www.azgs.az.gov/RADONDTE.htm, Spencer, J. E., Radon
gas – a geologic hazard in Arizona. In Arizona Geological Survey:
Down-to-Earth Series 2, 1992.
8. Schubert, G., Turcotte, D. L. and Olson, P., Mantle Convection in
the Earth and Planets, Cambridge University Press, Cambridge,
2001.
9. Davaille, A., Simultaneous generation of hotspots and super-wells
by convection in heterogeneous planetary mantle. Nature, 1999,
402, 756–760.
10. Forte, A. M. and Mitrovica, J. X., Deep-mantle high-viscosity
flow and thermochemical structure inferred from seismic and geodynamic
data. Nature, 2001, 410, 1049–1056.
11. Manga, M., Shaken, but not stirred. Nature, 2001, 410, 1041–
1043.
12. Ladyzhenskaya, O. A., The Mathematical Theory of Viscous Incompressible
Flow, Gordon and Breach, New York, 1969.
13. Hardy, J. and Pomeau, Y., Microscopic model for viscous flow in
two dimensions. Phys. Rev. A, 1977, 16, 720–726.
14. Batiza, R., Inverse relationship between Sr isotope diversity and
rate of oceanic volcanism has implications for mantle heterogeneity.
Nature, 1984, 309, 440–441.
15. Bilham, R. and England, P., Plateau 'popup' in the great 1897
Assam earthquake. Nature, 2001, 410, 806–809.
16. Virk, H. S., Sharma, A. K. and Walia, V., Correlation of alphalogger
radon data with microseismicity in N-W Himalaya. Curr.
Sci., 1997, 72, 656–663.
17. Kasahara, K., Earthquake Mechanics, Cambridge University Press,
Cambridge, 1981.
18. Hart, S. R., A large-scale isotope anomaly in the southern hemisphere
mantle. Nature, 1984, 309, 753–757.
19. van der Hilst, R. D. and Karason, H., Compositional heterogeneity
in the bottom 1000 kilometers of Earth's mantle: Toward a hybrid
convection model. Science, 1999, 283, 1885–1888.
ACKNOWLEDGEMENTS. During this research I was supported by
a Senior Research Fellowship of the Indian Statistical Institute and
received some technical help from Mr Subhashis Mitra. Helpful suggestions
made by the anonymous reviewers are acknowledged.
Received 15 July 2003; revised accepted 24 February 2004
Figure 5. Geomagnetic field intensity change observed in Beijing,
during the earthquakes in Holinkoerh, Inner Mongolia (6 April, M 6.3),
Tacheng (22 April, M 4.4) and Tangshan (28 July, M 7.8 and 7.1), both
in China. Taken from Wakita et al.4 after editing out the portions which
are not relevant to this study.
E ora torniamo in Italia.... ma siamo proprio sicuri che non se ne sapeva nulla?
Tracking precursors and degassing by radon monitoring during major eruptions at Stromboli Volcano (Aeolian Islands, Italy)
We monitored radon anomalies before, during and after the recent paroxysmal eruptions of Stromboli. Major eruptive events are preceded by relative minima in radon emissions at stations located at the base of the cone, whereas three of the summit stations reached peak values (∼20,000 Bq/m3 or higher) 12 to 14 days before major eruptions, and are nearly coeval with earth tides. Radon emissions at/or above such high threshold values are proposed to result from the dynamic response of the fracture network due to degassing processes associated with magma ascent. Relative minima recorded at the base of the cone are related to fractures' self-sealing within the hydrothermal system, eventually coupled with the atmospheric stack-effect. The coexistence of the above anomalies is interpreted as the first precursory signals to major eruptive events.
Received 2 February 2005; accepted 19 May 2005; published 24 June 2005.
Citation: Cigolini, C., G. Gervino, R. Bonetti, F. Conte, M. Laiolo, D. Coppola, and A. Manzoni (2005), Tracking precursors and degassing by radon monitoring during major eruptions at Stromboli Volcano (Aeolian Islands, Italy), Geophys. Res. Lett., 32, L12308, doi:10.1029/2005GL022606.
Questi posso prevedere addirittura le urruzioni vulcaniche con 12 / 14 giorni di anticipo!!! Viva i Profeti del Vulcano !!!
The Smithsonian/NASA Astrophysics Data System
Natural Radioactive Characterization by Gamma Ray Mapping in Relation with
Radon

-222, Radium-226 Contents in the Atmosphere, Dripping Groundwater and Mineral in a Dead-end Horizontal Tunnel

American Geophysical Union, Fall Meeting 2004, abstract #H21E-1059
The concentration of

radon

-222 has been monitored since 1995 in the atmosphere of a 2 m transverse dimension, 128 m long, dead-end horizontal tunnel located in the French Alps, at an altitude of 1600 m. The total volume of the tunnel is about 496 m3 with an estimated total wall surface area of 1041 m2. Most of the time, the

radon

concentration is stable, with an average value ranging from 200 Bq m-3 near the entrance to about 1000 Bq m-3 in the most confined section, and with an equilibrium factor F between

radon

and its short-lived decay products varying from 0.61 to 0.78. However,

radon

bursts are repeatedly observed, with amplitudes reaching up to 36 x 103 Bq m-3 and durations varying from one to several weeks, with similar spatial variations along the tunnel as the background concentration. These spatial variations are qualitatively interpreted in terms of natural ventilation. To understand the source term, we realised a comprehensive 3D map of total gamma emission of rock on all surfaces of the tunnel, i.e., floor, wall and roof, representing 700 measurements points with a section of eight points by two-meter steps along the tunnel. Dose rate varies from 100 to 350 nSv h-1 and reveals two major contrasted geological structures, correlated with the

radon

-222 profile in the air along the tunnel (230 Bq m-3 at the entrance to 770 Bq m-3 at the end, measured during a period of background

radon

level), and with other profiles measured in previous work. In addition, a correlation is evidenced with the

radon

-222 contents in dripping groundwater and with the

radon

precursors

- i.e., the daughters of uranium-238 (radium-226, for example) - content in rocks. The

radon

and radium contents in water and rocks, and the study of flow rate of the dripping groundwater are in direct relation with the mechanism of

radon

gas transport by water in porous media. By interpreting all available measurements, it is now possible to model the time variation of

radon

-222 in the tunnel, and to constrain the origin of the

radon

peaks generated in the gallery. The bursts result from transient

radon

exhalation upsurges at the tunnel wall, that could be due to meteorological effects, or possibly to combined hydrological and mechanical forcing associated with the water level variations of the nearby Roselend reservoir lake.
Mechanical Forcing suona un po come stress sismico non e' vero? Ma ora andiamo in Antartide....
The peculiarities of cross-correlation between two secondary precursors - radon and magnetic field variations, induced by tectonic activity ( Ma daiii... )
(Submitted on 29 May 2006)
Abstract:

A model of precursor manifestation mechanisms, stimulated by tectonic activity and some peculiarities of observer strategy, whose main task is the effective measurement of precursors in the spatial area of their occurrence on the Earth's daylight, are considered. In particular, the applicability of Dobrovolsky's approximation is analyzed, when an unperturbed medium (characterized by the simple shear state) and the area of tectonic activity (local inhomogeneity caused by the change only of shear modulus) are linearly elastic, and perturbation, in particular, surface displacement is calculated as a difference of the solutions of two independent static problems of the theory of elasticity with the same boundary condition on the surface. Within the framework of this approximation a formula for the spatial distribution (of first component) of magnetic field variations caused by piezomagnetic effect in the case of perturbed regular medium, which is in simple shear state is derived. Cogent arguments in favor of linear dependence between the radon spatial distribution and conditional deformation are obtained. Changes in magnetic field strength and radon concentrations were measured along a tectonomagnetic profile of the total length of 11 km in the surroundings of the "Academician Vernadsky" Station on the Antarctic Peninsula (W 64 16', S 65 15'). Results showed a positive correlation between the annual surface radon concentration and annual changes of magnetic field relative to a base point, and also the good coincidence with theoretical calculation.